How to Activate Windows 7 Ultimate with Key or Activator Free [2019]
Most Windows computers, made by HP, DELL, ASUS, etc., come with an activated OS, but there are times when users need to activate their Windows 7 manually. That's why people see a black wallpaper and the error message of "This Copy of Windows Is Not Genuine" on desktop of PC. Basically, activating the Windows with a genuine key can convert the copy of Windows in to a genuine one. However, more often than not, people have lost the original product key after reinstalling OS or replacing an important hardware. In this article, we will tell you how to find your Windows product key or the methods which you can follow in order to activate Windows 7 for free without key.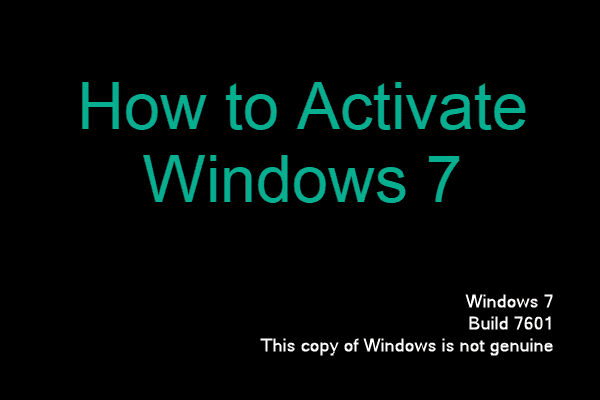 How to Check the Activation Status of Windows 7
Here are two ways to check the activation status of your Windows 7:
Control Panel > System and Security > System
Click the Start button, right-click on Computer in the right column and choose Properties

On the bottom of the window, check the line under Windows activation to tell if your Windows OS is activated or not.
How to Find Your Windows Product Key
If Windows came preinstalled on your PC, you should see the product key on a sticker on your computer.
If you bought a physical copy of Windows, you should find the product key on a label or the card inside the box.
If you have lost or can't find your Windows product key, you may contact the manufacturer for help.
On newer Windows computers, like Windows 8 and 10, the product key is embedded in your computer's UEFI firmware or BIOS, which means that you don't need to know it. As long as you're installing the same edition of Windows that the computer came with, it should activate the system automatically with no need of a key.
Pro tips: It is not suggested to use a computer for business if the device is not activated, because you could lose important files due to endless of Blue Screen of Death. If data loss has happened to you, make sure to recover unsaved or deleted Word, PDF or other documents with Jihosoft File Recovery as soon as possible. You can even use this excellent data recovery software to recover files after reinstalling Windows 7/8/10 system.
In case you still have problem activating your Windows 7, the following solutions may help you.
Method 1. How to Activate Windows 7 with Activator Tools
1. Windows Loader v2.2.2
Windows Loader is a helpful tool for the users who want to activate the Windows OS on their PC exclusively for free. Here are the steps which needs to be followed in order to accomplish our task:
Step 1. Disable the Antivirus software on your PC to avoid false alarm.
Step 2. Open the Control Panel on your PC, then click on System and Security.
Step 3. Under the User Account Control Settings, just make it to Never Notify.
Step 4. Download and run Windows Loader.
Step 5. Click Install button on Windows Loader to start the activating process.
Step 6. Restart your PC and check the activation status.
Windows 7 usually only comes with spyware protection, so you may need to turn off third-party antivirus tools temporarily if applicable. If you want to use the activator on Windows 8 or 10, please learn how to turn off Windows Defender.
2. Microsoft Toolkit 2.6.4
This is another very awesome tool for the users who want to activate the copy of Windows on their PC for free. Apart from activation of Windows, this tool can also help you to activate the Microsoft Office version as well. Check the steps below to activate the Windows 7 version on your PC:
Step 1. Turn off your Antivirus and the User Account Control notification.
Step 2. Download and Run Microsoft Toolkit, then click the Windows icon on the bottom right.
Step 3. When the Activation tab comes on, click on the EZ-Activator button.
Step 4. Wait for the activating process to complete, then restart your PC.
3. KMSPico
To activate the different premium versions of Windows 7, including Windows 7 Ultimate, Windows 7 Enterprise, Windows 7 Professional and Windows 7 Home Premium, KMSPico is a good choice for all. There are very simple steps to activate Windows 7 OS on your PC.
Step 1. Turn off your Antivirus and the User Account Control notification.
Step 2. Download and install the latest version of KMSPico on your PC.
Step 3. Click on the Red button on the program and wait for the success message.
Step 4. Restart your PC and check the activation status.
Method 2: How to Activate Windows 7 Using Code
Apart from using these Windows Activator tools on your PC, we can also activate Windows 7 using the code. Check out the steps mentioned below if you want to activate the Windows on your PC using the Activation code.
Step 1. Visit this URL on your PC.
Step 2. Create a new Text document on your PC and paste the code above into the document.
Step 3. Save the Document and rename it as "Windows7.cmd". Now it is a batch file. (Know what is a batch file)
Step 4. Run the batch file as an administrator on your PC. You will see the output just after accomplishing all these steps.
You may also restart your PC to see the applied settings successfully. This method is pretty much helpful for the users to activate both Windows 7 Enterprise and Windows 7 professional (both 32-bit and 64-bit variants).
Bottom Line
In this tutorial, we have learnt how to check and find Windows activation key and two methods to activate Windows 7 with activator tools or code. Feel free to let us know if you still have problem activating the copy of Windows 7 in your PC.