How to Activate Windows 8.1 by Phone or with Free Product Keys 2019
Windows 10 has been released since years ago, but still a lot of people disable Windows 10 automatic update and just want to stick with Windows 7 or 8. When it is necessary to upgrade to a new OS, many users will choose Windows 8.1. If you want to upgrade your computer operating system to 8.1, then you usually need a product key for that. In this article, you will know how to activate Windows 8.1 in two ways for free.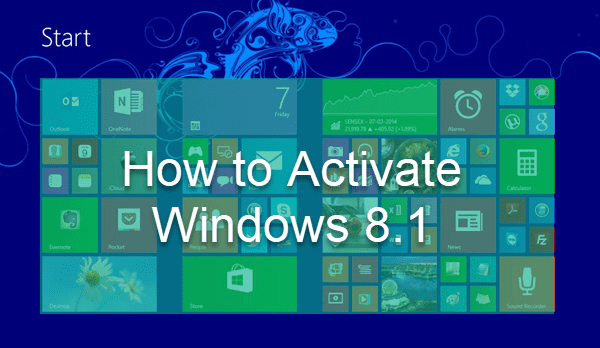 Why Go for the Windows 8.1 OS?
When you look at the new version of Windows 7 and 8, then it is Windows 8.1. In this new update, you can fix all error, bugs, and other issues that are present in the previous versions. With so many things in offering from Windows 8.1, it shows how good it must be for your system.
How to Find the Windows 8.1 Product Key?
The product key of Windows 8.1 is a vital thing as it ensures that the product is genuine. The product key usually has 25 characters in them, and it comes with the installation CD that you have brought from the authorized dealer of Windows software.
But to buy an original Windows 8.1 may cost you a lot. Many people have got more than one computer devices and for them going for the original product is very expensive. So, if you are wondering about these issues, then you need not have to worry about it. There are ways by which you can get the key for free.
Pro tips: Make sure to activate your Windows OS as soon as possible to avoid data loss due to Blue Screen of Death or other accidents. In case you need to recover unsaved or lost Excel or Word documents, don't hesitate to try with Jihosoft File Recovery immediately.
Methods to Activate Windows 8.1 Free?
There are two ways by which you can activate the Windows 8.1. These ways are here for you in a detailed manner.
1. How to Activate Windows 8.1 by Phone
The very first thing you need to get a free Windows is to get a smartphone. Then you can activate the Windows 8.1 by using your Android smartphone, which is compatible with this OS. To do that you need to follow these steps.
Step 1. Click on the Start button on your PC.
Step 2. Go to the Settings > Change PC Settings > Activate Windows > Activate by phone.
Step 3. After that, you need to select your location and then click on Next.

Step 4. Call the number that is present on the page and follow the voice prompt to complete the activation process.
2. How to Activate Window 8.1 Online
If the first way does not work for you or you don't have got any cellphone with you, then you can go for the second method. The second method that is mentioned here will work in a better way.
To do that in a better way, here are the steps that you need to follow.
Step 1. Power on your PC and then after that navigate to Settings.
Step 2. Then there you will find a box saying Activate Windows. Click on that.
Step 3. After that, you need to copy any one of the product keys which you can find over the internet. You need to search product keys for windows 8.1 in Google, and a series of numbers will appear for you in many pages.
Step 4. Then you need to paste the same number on your PC and click on Next to check whether the key is active or not. If not, get the next key.
Step 5. After doing all it when the key will get accepted by Windows, you will see a series of instructions.
Step 6. Follow these instructions carefully and in a correct manner so that after some time, you will see that Windows is activated automatically for your PC.

Free Windows 8.1 Product Keys
If you can't find your own product key for Windows 8.1, here are some free Windows 8.1 product keys collected online. You may try them one by one until your copy of Windows 8.1 is activated successfully.
FHONR-XYXYC-8PMHTHTV4PH-DRQ3H
ND8P2-BD2PB-DD8HM-2926R-CRYQH
HMCNV-WVBFX-7HMBH-CTY9B-B4FXY
MHF9N-XY6XB-WVXMC-BTDCT-MKKG7
MBFBV-W3DP2-2MVKN-PJCQD-KKTF7
28VNV-HF42G-K2WM9-JXRJQ-2WBQW
XHQ8N-C3MCJ-RQXB6-WCHYG-C9WKB
6RH4V-HNTWC-JQKG8-RFR3R36498
4Y8N3-H7MMW-C76VJ-YD3XV-MBDKV
NTTX3-RV7VB-T7X7F-WQYYY-9Y92F
KQWNF-XPMXP-HDK3M-GBV69-Y7RDH
MMRNH-BMB4FH87UR9-D72RY-MY2KV
GCRJD-8NW9H-F2CDX-CCMSD-9D6T9
N4WY8-DVW92-GM8WF-CG872-HH3G7
TT4HM-HN7YT-62K67-RGRQJ-JFFXW
MNDGV-M6PKV-DV4DR-CYY8X-2YRXH
Bottom Line
In this tutorial, we have learnt how to activate Windows 8.1 by phone or with free product keys. If you're still using Windows 7, here is how to activate Windows 7 free. Microsoft has planned to stop supporting the old versions of Windows OS, so it would be a wise choice to upgrade to Windows 10 for home computers as soon as possible. Feel free to share your opinions on the Windows OS in the comment.