Windows Has Stopped This Device Code 43 – How to Fix
When we use a computer, everything is done with the help of multiple parts, such as the monitor, CPU, graphics card, USB drive and peripheral devices. It is common to see a lot of problems or errors on a Windows or Mac computer, though we have witnessed rapid revolutions in computer technologies. For example, many users find their device not working properly and only being reported with an error code 43. In this article, we are going to introduce what it is and how to fix error code 43 in Windows 10.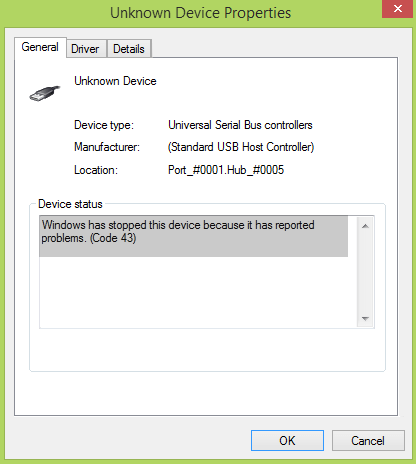 What Is Error Code 43?
Windows has stopped this device because it has reported problems. (Code 43)
When you see this warning message, there is usually something working abnormally already, which drives you to check it on Disk Manager. It means that a device isn't working properly on your Windows computer. It could be a hardware issue or a failed driver associated with a USB device or the graphics device.
Part 1. Check for Hardware Issues
Error code 43 could relate to both hardware and software issues, and we'd start from hardware diagnosis. Under the order of complexity, three points are recommended for investigation:
1. Connection
If you're using a desktop, please connect USB drives to the back slots instead of the front ports. If you're using a laptop, change to another USB port and avoid any USB hub or switch. If the device with problem is related to display, you may also check if the graphics card is inserted firmly.
2. Authenticity
Many users claimed that their graphics cards turned out to be fake after testing with GPU-Z. If your card was bought from an unknown seller, it is time to check for its authenticity.
3. Wastage
If your computer or the main hardware have been serving for years, you may want to clean dust and redo thermal paste on the GPU.
If you think some of the tests are too complicated, you can choose to troubleshoot with the software solutions below.
Part 2. Fix the Device Driver
In Windows computers, drivers are crucial for peripheral devices to work normally. Furthermore, the drivers need to be updated frequently in order to match with the operating system. Some users need to update AMD graphics drivers, while others want to deal with NVIDA device. Usually, we can fix driver issues in Windows 10/7 computers in 3 ways.
Option 1. Update the Device Driver
Step 1. Right-click on the Start button, then click Device Manager.
Step 2. From the list of devices, locate the one with driver problems, which usually has a yellow exclamation point to it.
Step 3. Right-click on the device and choose Properties.
Step 4. Switch to Driver tab, then click Update Driver.
Step 5. On the pop-up window, choose Search automatically for updated driver software.
If Windows finds a new driver, it will install and upgrade automatically. If it doesn't, you can also try to find the new driver on the device manufacturer's website.
Option 2. Roll Back the Device Driver
If error code 43 appears after a recent update in Windows 10, it is possibly caused by the new update and we can try to fix it by rolling back the device driver to a previous version.
Step 1. Open Device Manager again.
Step 2. Locate the device with driver problems and right-click on it, then choose Properties.
Step 3. Switch to Driver tab again, but choose Roll Back Driver this time.
Option 3. Uninstall and Reinstall the Device Driver
You might have found more options from the right-click menu on Device Manager. In case the two options above do not work, you can try uninstall the device and then reinstall it.
Step 1. Open Device Manager again.
Step 2. Right-click on the device with driver problems, then choose Uninstall device > OK.
Step 3. Once the Uninstall finishes, right-click on your computer name in Device Manager and choose Scan for hardware changes.
Step 4. Now the system should have automatically reinstalled the device.
Step 5. Right-click on the same device as that on Step 2, choose Properties, then see if there is a message "This device is working properly" on General tab.
Part 3. Install Latest Windows Update
It has been reported that error code 43 of NVIDIA hardware disappear after installing the latest Windows update. You may also want to do it manually if you have disabled Windows 10 automatic update.
Step 1. Go to Settings > Update & security.
Step 2. On Windows update, click Check for updates button.
Step 3. When the updating completes, reboot your computer and see if the problem is solved.
This method shall be considered according to the exact situation you're in. For example, if error code 43 occurs after a Windows update, you may want to roll back to a previous build. Similarly, you can also uninstall a newly installed software or a program that might conflict with the device.
Tips: In case you lose important files from your computer or other storage device, don't hesitate to use Jihosoft File Recovery. The best data recovery software has helped thousands of people recover deleted files from SD card, pen drive and hard drive.
Bottom Line
In this tutorial, we have learnt how to fix "Windows has stopped this device error code 43" because it has reported problem. We have listed several solutions which have been proven to work for people in different conditions. Whether any of the options has worked for you or not, please let us know in the comment section, so that we could help more people.