How to Know My Windows Product Key in Windows 7/8/10
What is the list of must-do things to check when you're ready to clean install your Windows computer? A full backup of your files, a record of your favorite programs, all customizable settings and more you name it, but don't forget to save your Windows product key as you will need to activate the system again. Even though Windows 10 now allows users to reset the computer without wiping the registration, many problems can only be solved with a clean install. In addition, a lot of users want to go back to the previous Windows OS after experiencing frequent system crashes in Windows 10 or because Windows Photo Viewer is missing. In this tutorial, we will introduce several methods to find product key in Windows 7/8/10 so that you can reinstall the operating system worry-free.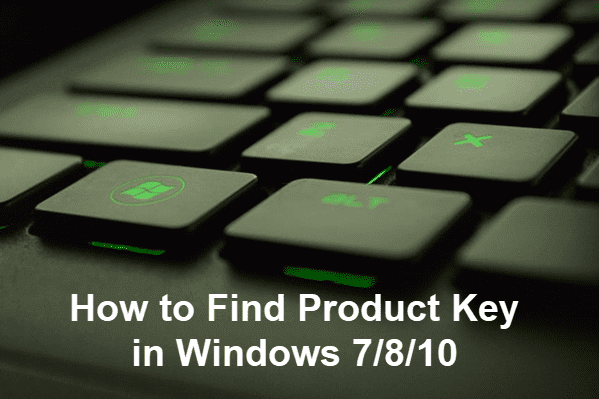 Method 1. Check Common Recording Media of Windows Product Key
Most people receive their Windows computer with the system activated already, which makes them pay little attention to the product keys. As a matter of fact, depending on how the computers are bought, the Windows product keys are usually recorded or attached in different places.
CD you received from the manufacturer or seller
COA sticker on the front or back side of your computer
Email or receipt from online stores, like Amazon
It is understandable that you can no longer find the printed or attached product key because of damage or loss of the above media. Don't worry. Keep reading to know more methods to find out your Windows product key.
Method 2. How to Find Product Key in Windows 7/8/10 via CMD
Don't panic if you have lost the CD or COA sticker. We can find out your product key with Command Prompt. The tool is built in Windows 7/8/10, so everyone can follow the steps below to know your Windows product key.
Step 1. Press WIN + R, type CMD in the box and press Shift + Ctrl + Enter. In this way, administrative Command Prompt will open.
Step 2. Copy and paste the command below in Command Prompt and hit Enter.
wmic path softwarelicensingservice get OA3xOriginalProductKey
Step 3. The 25-character alphanumeric string is your Windows product key.
Tips: In addition to Windows product key inquiry, there are 10 more things you can do with Command Prompt.
Method 3. How to Find Product Key in Windows 10 via PowerShell
A lot of people have been used to Command Prompt since Windows 7 or earlier, but Windows PowerShell, a new command shell, has replaced Command Prompt in the right-click menu of the Start menu since Windows 10 build 14791. In short words, PowerShell is now the default command utility in the latest Windows 10. We don't know if it will replace Command Prompt entirely, but it is necessary to learn how to find Windows product key with Windows PowerShell.
How to open Windows PowerShell: Right click on the Start menu button in Windows 10, then choose Windows PowerShell (Admin).
Actually, Windows PowerShell is quite similar to Command Prompt in the appearance, but they use different instruction set. For this application, we just need to change the command as below:
powershell "(Get-WmiObject -query 'select * from SoftwareLicensingService').OA3xOriginalProductKey"
Type the command line in Windows PowerShell and hit Enter, then you will see the same alphanumeric string.
Method 4. How to Know My Windows Product Key with Windows Registry
This method has few advantages over the options above, but we choose to add it here in case anyone would like to have a try.
Step 1. Right click on anywhere blank on the desktop and choose New > Text Document.
Step 2. Open the document with Notepad, then copy and paste the code below into it.
Set WshShell = CreateObject("WScript.Shell")
MsgBox ConvertToKey(WshShell.RegRead("HKLM\SOFTWARE\Microsoft\Windows NT\CurrentVersion\DigitalProductId"))
Function ConvertToKey(Key)
Const KeyOffset = 52
i = 28
Chars = "BCDFGHJKMPQRTVWXY2346789"
Do
Cur = 0
x = 14
Do
Cur = Cur * 256
Cur = Key(x + KeyOffset) + Cur
Key(x + KeyOffset) = (Cur \ 24) And 255
Cur = Cur Mod 24
x = x -1
Loop While x >= 0
i = i -1
KeyOutput = Mid(Chars, Cur + 1, 1) & KeyOutput
If (((29 – i) Mod 6) = 0) And (i <> -1) Then
i = i -1
KeyOutput = "-" & KeyOutput
End If
Loop While i >= 0
ConvertToKey = KeyOutput
End Function
Step 3. In Notepad, click File > Save As…
Step 4. In the popup File Explorer, click the dropdown menu next to Save as type and choose All files.
Step 5. Give the document a name ended by .vbs, such as ProductKey.vbs.
Now save the .vbs file properly, and you will be able to open it to view the Windows product key at any time. It is recommended to save the file on an external hard drive as well as a cloud storage. It would be best to also write the alphanumeric string down.
Final Thought
Now that you have the product key of your Windows OS, you can clean install the computer with no worries. However, in case you find precious photos, videos or documents lost, don't hesitate to use Jihosoft File Recovery to get them back. You can recover lost files after reinstalling Windows or deleting data from computer, SD card, USB flash drive, etc.