How To Update An AMD Graphics Driver
Today computers are not only to work but also to play games and so many people even look out for the configuration of graphics card before buying a laptop or PC. This shows the importance of Graphic cards for computers and when we talk about quality and give real feel no one can be better than an AMD graphics card. People who are looking for high performance and affordable graphics card would find AMD best in every manner. But as the developers go on updating driver for graphics cad you too are in need to update drivers in your computer to enjoy some latest features. So, here are some of the easiest ways by which you can update AMD graphics drivers in Windows 10.
Basic method (AMD Radeon settings)
To update AMD graphic driver, the most common way and easiest way is through AMD's Radeon setting. You would find this software already installed on your computer and if it is not there you can easily install it. If you have it just open the Radeon settings and click updates option which is at the bottom left corner.
If a new updated would be available, the program will notify you and thus you can install all new updated regarding AMD graphics driver. If there is any update, make sure to restart the computer so that modifications are applied.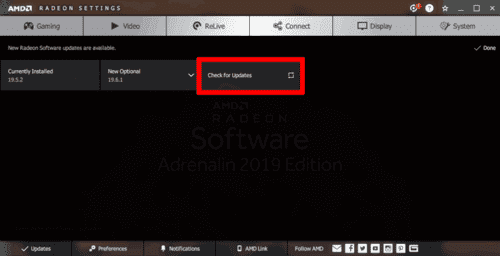 Update through device manager
The most used method of updating AMD graphics driver in windows is as follows:
Go to the search option and type "devicemngr".
It will open the Device Manager window and further expand the option Display adapters.
To check for updated click on AMD graphics card and go for Update driver.
Now if there would be any update you need to follow on-screen instructions and thus updated the AMD Graphics driver.
Lastly, restart your computer to apply changes successfully.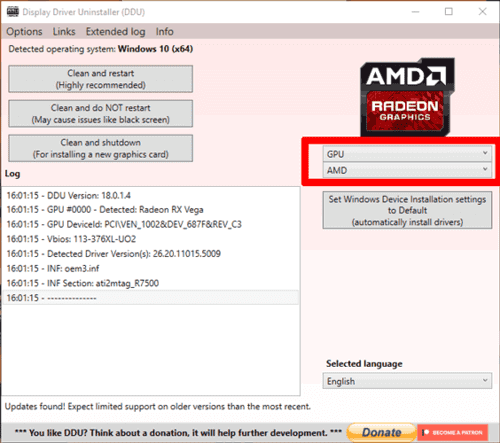 Manually updating driver
First, check the model of your graphics card and to check it go to compute managements -> system tools ->Device Manager ->display adapters. It will show the model of your graphic card.
Now to download the latest driver visit AMD Drivers Download Center. Go for Manually select your driver option and further select the hardware type, graphics card series along with the model and operating system. After selecting all the details, click on "Display Results".
This would help to search for the latest Am driver and now you have to go for the "Download" section where you can find the download button for the software suite. You can select it according to the suite that contains your graphics card like Catalyst Software Suite, AMD Radeon Software.
Lastly, you will click on download to get the software installation file, which will also contain the latest driver.
(This is if you go for Catalyst software else you need to follow the instruction given in other suites). Now double click the installed file and run it. Make sure to mention the folder where you wish to get the installed file. Click on the Install button where and now you would be forwarded to the Installer window. Select "Express" and spicily installation location and lastly click on NEXT. Accept the license agreement to get the catalyst suite along with the latest driver to get installed on your computer.
Also Read: Here's a list of Microsoft Windows 10 language pack download! Info for Windows 10 Premium Language Packs.
Updating using DDU
If you find that your driver is getting crashed and you are not able to update your graphics driver with any other methods go for DDU. T is a tool that is commonly known as Display Driver Uninstaller.
To go further with this option first download the tool and extract it to one of the locations in your computer. To go for a safe mode of PC hold the shift key and click the restart button. Now Further navigate to different options as follows Troubleshoot -> Advanced options -> See more recovery options -> Start-up Settings -> Restart to get PC started in safe mode.
Enable the safe mode option and make sure that the internet connection is turned off.
Now open the DDU and select GPU under "Select device type" and AMD for the drop-down below this option.
Click on options in DDU and make sure that all the checkboxes are checked for the option "AMD Specific Options".
Lastly, click on clean and restart your computer. Now go to the AMD drivers page in the browser and select the driver for the graphics card.
Once you have entered the GPU information click on "Submit" and select the driver according to your system you wish to get downloaded. Select anyone from the given option to get the latest version of AMD graphic driver on the computer.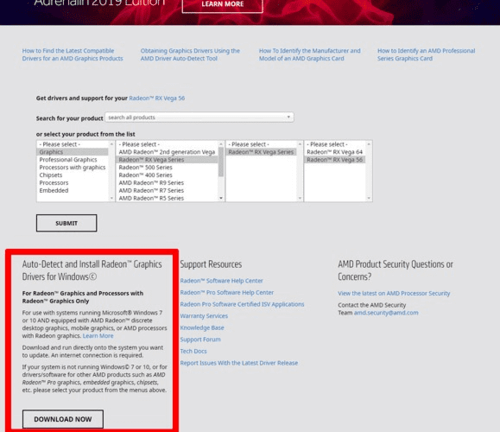 It is quite easy to the updated driver to the latest version but in some cases, you would find it difficult for AMD graphic driver. So, in such a situation follow any of the above steps and make it possible to get a new feature of the driver.
Tips: Jihosoft File Recovery lets you retrieve deleted or missing files of any kind, including documents, songs, videos, and more on PC/Mac.