How to Access iCloud Photos, Contacts, Calendar, Emails on Android
iCloud is the cloud storage service provided by Apple to its iPhone users. It secures all your iPhone videos, documents, and photos that you can access from any of the devices. However, iCloud only works for iPhone, iPad and other iOS devices, so Android users are not able to access or view the files stored in iCloud directly. If you are planning to switch from iPhone to Android phone then you might think of giving up on this exceptional cloud computing service. However, there is no need to do that as you can access iCloud on Android phone now with the help of some Android applications. Also, there are individual apps for individual tasks like iCloud photo viewing, accessing iCloud email on Android, etc.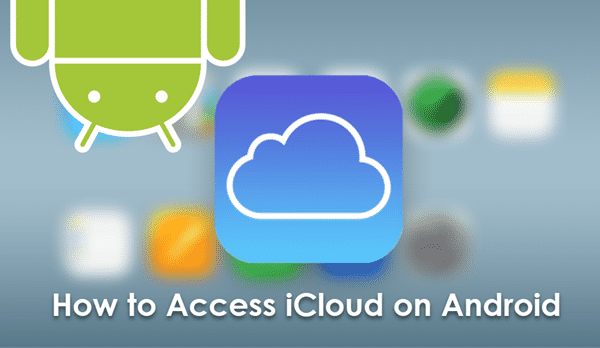 Now, let us see how to use these apps individually to access iCloud from your Android device.
Option 1. Access iCloud Photos on Android
If you need to view the iCloud photos from Android phone, or want to recover photos from iCloud on Android without the help of a computer, then please follow these steps below to do that in a seamless way. However, it should be noted that iCloud website is not supported by most of the Android web browsers, and Chrome is the only one browser that you could use to access your iCloud photos.
Step 1: First, set Chrome browser as your Android phone default web browser. Now go to the iCloud.com site.
Step 2: When there is a message "Your browser is not currently supported", choose the MENU button at the top right corner of the browser. And then select the DESKTOP site. After that, the iCloud website will reload and enable you to login as usual.

Step 3: Login iCloud account with your user ID and password. After that, select the photos to explore the videos and photos that you have saved on your iCloud account.
Step 4: Now, the site will present all the photos and videos to you in the 'Landscape mode'. You can easily choose any picture or video you want to download by selecting them and tapping the blue button of 'Download' that will be displayed on the top right corner of your mobile's display.
Thus, you can access and download any number of iCloud photos on your Android device without using a computer or laptop. All these iCloud photos can be viewed and edited on your phone, and if you accidentally delete any one of them, you can directly recover the deleted photos from Android phone memory with Android Data Recovery software rather than repeat the above tedious steps to recover photos from iCloud on Android.
Option 2. Get Contacts from iCloud on Android
Getting contacts from iCloud is relatively straightforward, and this is the most reliable method to do that. Now you can follow the below steps to sync iCloud contacts to Android device.
Step 1: Go to iCloud.com from your computer or laptop and login your account.
Step 2: Go to the Contacts section once you login and choose the contacts that you wish to export to your Android device.
Step 3: When a gear icon appears on your screen, choose it and select "Export vCard" and then save this VCF file on your computer.
Step 4: After this, you need to transfer the contact file to your Android phone and you can do it by using a USB or via cloud storage.
Step 5: Now, open your Android phone and open the Contacts app. Here, tap the Menu > Settings > Import, and then browse for the VCF file and import the contacts to your Android phone.
Option 3. Access iCloud Calendar on Android
It is very simple to view iCloud calendar on Android by using the CalDav Sync app, which lets you sync CalDAV or Webcal calendar to Android phone. You just need to install this app on your Android device to sync your iCloud calendar on your smartphone. Though CalDAV Sync app is not a free application, it is not costly at all and worth its cost completely.
Follow these steps to access iCloud calendar on your Android phone directly:
Step 1: Go to iCloud.com and login your account on your computer or any other devices. Select "Calendar" and choose the calendar that you want to sync.
Step 2: Check the option named "Public Calendar", and click the email link once the WebCal link appears on display.

Step 3: Then send this URL to an email address that you can easily access from your smartphone.
Step 4: Now, install the CalDAV Sync app on your Android phone and open the URL that you have sent on your email address. Copy the calendar URL and open the CalDAV Sync application.
Step 5: Now, you just need to go to the "Add Account" section, select "WebCal" and paste the URL. Click on "Next" and then select "Done" to complete the process. Now you can view the iCloud calendar on Android phone.
Option 4. Access iCloud Email on Android
To access iCloud email on Android phone, you just need to use your Gmail app on your smartphone and follow these steps to access iCloud email account:
Step 1: Firstly, you will need to create an app password for your iCloud email. To do this, you should first go to the Apple ID page and login with your credentials.
Step 2: Now, move to Manage > Security > App-specific passwords > Generate Password. Then it will prompt you to enter a description for the password, and then tap "Create". Please remember or save this password as you will need it later on.

Step 3: Now, launch your Gmail app on your Android device, and from the top-left corner you will have to select the Menu > account selection > Add account.
Step 4: Then enter the iCloud email address and password that you generated a moment ago, and then click "Next".
Gmail will then automatically sync your iCloud email account and you will be able to access it on Android anytime you want to!
Option 5. One-stop Solution to Access All iCloud Data on Android
If you are tired of the above options, then this iCloud for Android Assistant is a wonderful tool that lets you access all kinds of iCloud data on Android device. It allows you to access iCloud contacts, calendar, and iCloud messages on all types of Android phones like Samsung, Motorola, Xiaomi, Sony, Oppo, LG, etc. You just need to download the Windows or Mac version of the program depending upon your computer operating system and connect your Android to the computer. After that, you can directly access iCloud data on your phone.
Here are the detailed steps to use this iCloud for Android Assistant:
Step 1. Run the program on your computer and connect your Android phone to computer with a USB cable.
Step 2. After the program recognizes your phone, choose the "Restore from Backup" option and then select the "iCloud" option on the program interface.
Step 3. Then on the program, sign into your iCloud account with your Apple ID and password. When you see a list of iCloud backup files appear, you can select one to restore from.

step 4. Finally, check your desired file types like Contacts, Text messages, Calendar, Call logs, Photos and etc from the middle panel and hit the "Start Transfer" button to transfer the iCloud files to your Android phone. Once the program finishes the transferring process, you are able to access iCloud files on your Android smartphone.
Conclusion:
These were a few methods that will help you access iCloud photos, contacts, emails, calendar and etc on your Android phone. Follow these methods carefully and if you find some difficulties in doing so, please mention it in the comments section. Also, you can share any new methods if you know about them in the comment section.