How to Stop Pop-Up Ads on Android Phone with Android Ad Blocker
Android phones are perhaps the most popular type of phones in the world today, especially when 5G Android phones come out one after another. The seamless user interface, interactive apps and super-fast speed of the operating system make them a perfect choice for the smartphone users.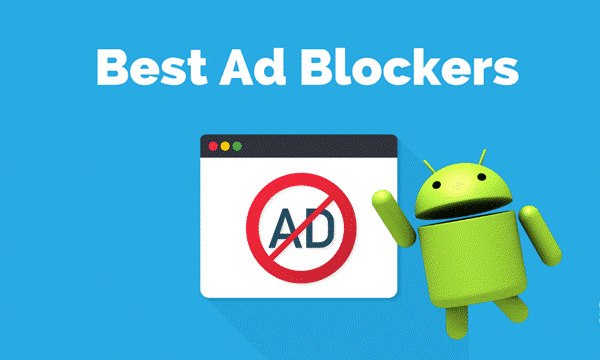 However, many users get irritated and annoyed when they face the issue of pop-up ads on Android home screen. Due to the use of browsers like Google Chrome or any other browsers on your Android phone, you might inadvertently click on something that would start the downpour of ads on your mobile. These adverts not only disturb you while chatting with your friends or while viewing a video or movie, but also deteriorate the performance of your cell phone to some extent. Today we will have a look at the ways to find out what app is causing pop ups and block the pop-up ads on your Android phone.
PART 1. How to Block Android Pop-ups in the Browser
If the websites that you visit through your browser send pop-up ads regularly, then you can use a few methods to avoid them.
Option 1. Disable Pop-ups in Chrome
Google Chrome is the default browser for the majority of Android phones. Therefore, it is a wise decision to make use of pop-up blocker setting of Chrome first to minimize the number of pop-up ads on your phone. Follow these steps to use the option:
Step 1: Launch the Chrome app and open the Settings by selecting the menu button. If you are not able to locate the menu button, look for the button that has three vertical dots.
Step 2: Here you will find the Site settings. Just tap on it and then find the Pop-ups option. You can turn off the slider to disables pop-up ads and adverts on your device.
Step 3: This will minimize the pop-up ads and unnecessary advertisements that trouble you while using your phone.

Option 2. Block Pop-up Ads on other Android Browsers
If you are also finding a solution to the question, how do I stop ads on my Android phone, then you can use this method especially when you are using any Android web browser other than the Google Chrome. For example, if you are using the opera mini or opera browser on your mobile phone then you can use this method:
Step 1: Open the browser i.e. opera or opera mini browser.
Step 2: Now, go to the settings page and enable the 'Ad blocking' feature.
This will serve as an ad blocker for Android and will minimize the pop-up ads when you are using opera or opera mini browser. Using this option the users can manually stop ads on Android.
PART 2. Using AdBlock Browser for Android
This Adblock Browser with no ads is a special browser which is specially developed to stop the pop-up ads on your Android device. This customizable web browser enables you to visit any webpage without seeing any intrusive or annoying pop-ups or ads. Therefore, if you want to browse on Android without seeing a single ad, then you can use this pop-up blocker for Android for sure. Follow these steps to do that:
Step 1: If you do not have the AdBlock Browser on your Android phone then you can search for it on the Play Store and install it.
Step 2: After installing the AdBlock Browser, open it and go to its 'Settings' page.
Step 3: In the Settings, you can find 'Block Intrusive Elements'. You need to tap on it so that the checkbox gets clicked.
Step 4: Now, go to the 'More blocking options' located just some places below the 'Block Intrusive Elements'. Here you can block more sites using different options.

PART 3. Block Ads in Android Apps Without Root
If you want to learn how to remove ads from Android apps without rooting then you can follow this method. Here we suggest you to use a no root ad blocker named Blokada to block pop-ups in Android apps.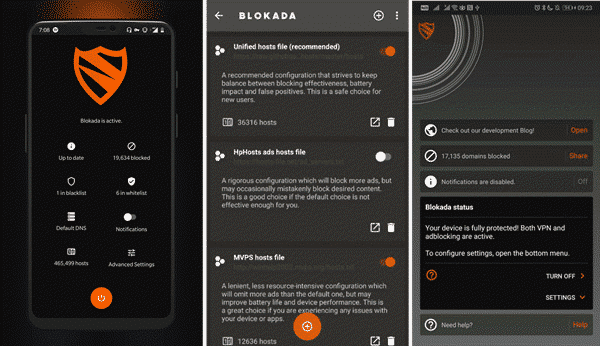 This app utilizes the VPN system to execute the function of ad blocking. It goes through the DNS traffic and filters the ads. Blokada supports your browser and all the apps installed on your phone. The best part of this app is that it doesn't require you to root your Android device. You just simply open it and let it runs in the background, blocking all the pop-ups that you don't interest. Now, let us see how to use it to block the ads on your Android device:
Step 1: Install the app and open it. At the bottom of the screen, you will find the "Power" button, and then tap on it.
Step 2: It will prompt you to configure a VPN on your device. Press "OK" to permit the application.
Step 3: After that, the icon of Blokada will appear orange which means that the VPN configuration is active on your device. It also means that the application is blocking ads from appearing on your Android phone's screen.
Step 4: Whenever the application will block an advertisement, it will send a notification on your device. You can also disable this notification if it disturbs you. The app also has a 'Keep alive' option that enables you to keep the app active even if your operating system tries to deactivate it.
Step 5: Using Blokada is quite simple and it also allows you to configure the VPN according to your needs if necessary. The homepage of the application will show 'Default DNS' and you can tap on it to explore the list of DNS servers which have been blocked by the application.
There are other apps similar to Blokada that also allow you to set VPN configuration to block the unnecessary and disturbing pop-up ads from your device. However, Blokada is relatively simple to use and does not acquire a lot of space on your mobile phone. Therefore, you can happily install it, and don't need to delete any file on Android due to the concern about the memory space of your device. As wrong deletion may result in important data loss forever. Fortunately, so long as the deleted files haven't been overwritten, they still can be recovered with Android Phone Recovery software, which helps you retrieve deleted contacts, photos, videos, messages, call history, WhatsApp and other documents from almost all of the Android phones and tablets.
Conclusion
These are the methods that enable you to block pop-up ads on your Android display. While most of the techniques are simple and you only need to alter some of your browser settings, the method of blocking ads without rooting is also discussed here. For any further information on these methods, you can freely connect with us.