How to Bulk Download Images from a List of URLs
Do you want to download images in bulk from websites to make slideshows or presentations? It will be a daunting task to download individual images as it takes a lot of time to search for the right images and download them. But fortunately, you are in the right place to get rid of that trouble. In today's article, you will learn how to download images in bulk with some of the best bulk image downloader tools.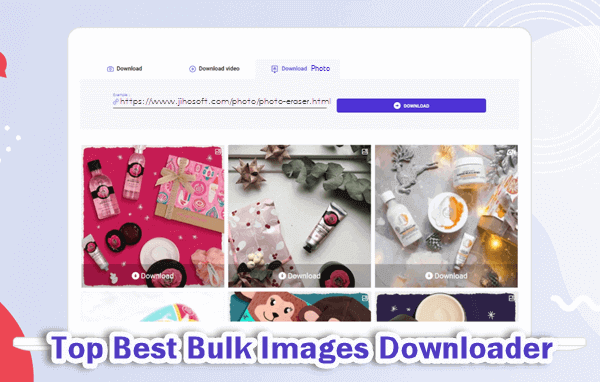 As there are many bulk image downloaders available on the market. Some of them are paid, while others are free. Inspired by the inquires received, we have made this "top best batch image downloader" list for you. Read on!
Bulk Image Downloader is one of the best batch image downloader tools. The app is good for downloading large galleries from any website. For example, you can use it to bulk download twitter images and download image galleries from Pinterest, Flicker and more.
It has a unique feature of downloading large images from different websites while avoiding thumbnails and small GIFs. The most interesting feature of this tool is the image previewer. This image downloader supports sequential URLs and is compatible with popular web browsers like Chrome and Firefox, so you can also add a browser extension to download images within just a click.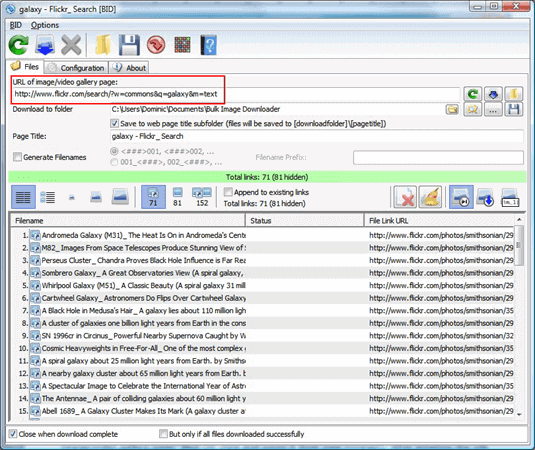 We have chosen Site Sucker for a wide range of reasons. First, it allows you to download images in bulk. Second, it has a powerful crawler configuration and supports password-protected websites through a built-in browser. Third, this app provides easy configuration so that you can configure the program and choose the type of images for download. This way, you can skip certain image formats like GIFs, thumbnails or any other formats that you don't want. Most importantly, compared to other bulk image downloaders, Site Sucker is an affordable app and costs around $4.99 only.
The customization feature of the Site Sucker is simply awesome. It has an easy-to-use interface, and you just simply add URLs of the websites and start downloading the images. Also, it offers you to check the download history, which means you can reuse the URLs anytime you want. But it is important to know that this app does not generate sequential URLs and it can be used on Mac computer only.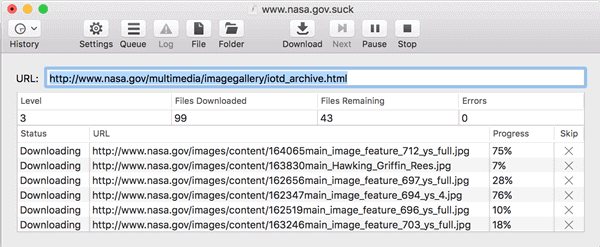 Internet Download Manager is one of the most popular applications. It can replace your browser's file download function and it will launch automatically once you click on a download link. Also it comes with bulk download features like Site grabber, which allows you to download bulk images from different websites.
The positive sides of the internet download manager are site grabber feature, generation of sequential URLs, web browser integration. And it even allows you to schedule when to start the downloads. However, it has no built-in gallery viewer option. It has a trial version so that you are free to use it for one month.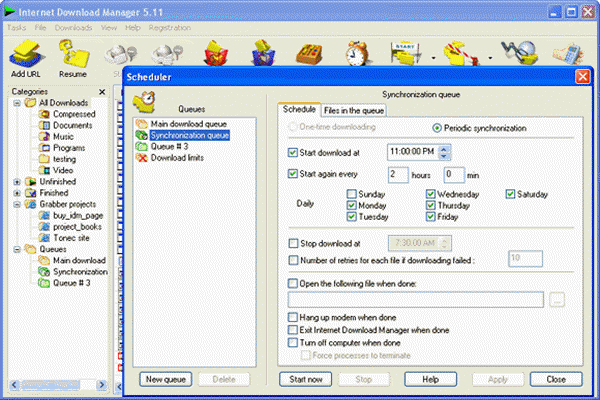 WFDownloader is a multi-purpose bulk image downloader available for Windows, Linux, and Mac. It has preset grabbers such as video grabber, images grabber, and hyperlink grabber, hence it not only enables you to download images but also let you download other types of files.
Interestingly, this app allows you to download images in bulk from non-supported websites. Besides, it also has a built-in configurable crawler. It offers you many configuration options such as page ranges, image resolution, video resolution, etc. Using the image resolution feature, the WFDownloader will download images according to the set size. For instance, if you set the size to 1024×768, it will skip all other images and look for photos of the 1024×768 pixels.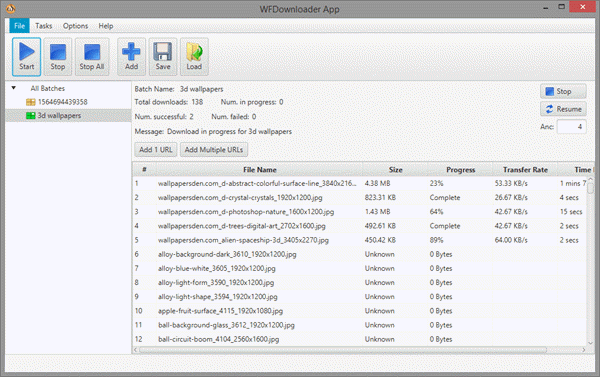 Extreme Picture finder not only allows you to download bulk images from many sites, but it also enables you to download other types of files in bulk. It gives you a step-by-step download tutorial, which makes it easier for beginners to download image files in a hassle-free manner.
Extreme Picture Finder has templates for popular websites such as Tumblr and Deviantart. Moreover, it has a built-in site crawler feature, which allows you to filter the image size. Likewise, the Extreme Picture Finder has a built-in image previewer and supports URL links generation. You can save the download process and resume it later anytime you want.
Although this is a great tool, there are some downsides such as no browser integration, support for Windows Operating System only, and a higher price of starting at $29.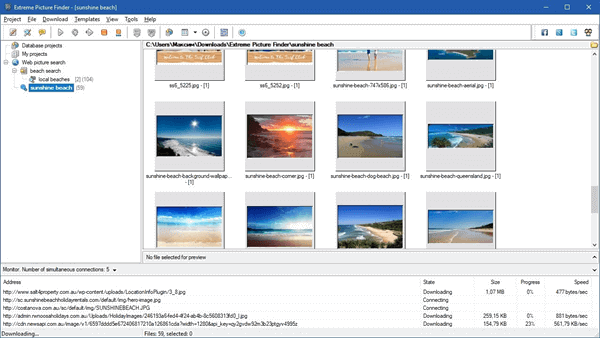 RipMe is a lightweight Java-based app designed specifically for bulk image downloading. You can use this fast and reliable app to download large images from numerous popular media hosting websites with ease. Although the app does not work on all websites, it works best with popular sites like Instagram, Twitter, Pinterest, and Reddit.
The user interface of RipMe is easy and simple because the app is developed in the Java programming language. It works on all operating systems such as Linux, Windows, and Mac. It is important to install Java 8 module before running this app. Otherwise, this won't work.
The RipMe app comes with both pros and cons. When it comes to the benefits, it is open-source software and works great for supported files and downloads batch image files from the website links you add in it. On the other hand, it has no built-in image viewer or integration for web browsers.
NeoDownloader is a reliable tool that allows you to download images in bulk from a large number of websites including Instagram and Flicker. Not only does it allow you to download pictures, but it also supports downloading other file types such as videos, documents, web pages, etc.
You can configure the app easily and choose "images only" to download photos, galleries, and photo albums. NeoDownloader is not a free tool and you have to buy it for $40. The price is a bit higher for beginners or those who are on a budget, but it works faster than free image downloaders, especially when you want to download hundreds of images from different websites.
Wrapping Up!
If you need lots of images for slideshows, presentations, blog posts, websites, YouTube videos, you may make use of a bulk image downloader. And here we also suggest you Photo Eraser software that can be used to retouch your photo before using it for slideshows, presentations and etc. After you download a image and find there is any person or object in it, then this software enables you to fix beard and blemishes on portraits, remove censored parts from photos and erase any unwanted objects from images.
To save precious time and effort, you can use any tools mentioned above to download your desirable images in bulk. Almost all the tools reviewed in this article offer premium customization and configuration options.