How to Download Twitter Videos to Android (5 Methods)
Twitter is a great medium for those that want to share their thoughts. Being limited to pretty short messages is exciting since you get to measure what you say and how you say it. That being said, there are always some challenges related to getting stuff from Twitter. If you like a picture from Twitter, you can do a screen grab and download it. But what can you do if you want to download Twitter videos to your Android phone? Things are more complicated.
Thankfully, it doesn't have to be like that. Learning how to save a video from Twitter is a lot easier than it has ever been, and you will find this to work like a charm. The idea is to know what you want to achieve and what features you have in mind, then it will be well worth the effort. With that in mind, we created a list with five methods you can use to download Twitter videos on Android.
One of the things that you can do if you want to know how download videos from twitter is to use the Video Downloader for Twitter application. This app is straightforward to use, and you will notice that you need to install it, and then it will automatically appear as a share option.
For this to work, you have to download the app and then enter the Twitter application. Before you use the Twitter video downloader, you will need to go through Twitter and find the video that you want.
Once you have that video, you enter it and then press the Share button. One of the share options will be Video Downloader. Press on it, and you will have an MP4 output automatically and then press the Download button. The entire process is pretty fast, but if you want to download lots of videos from Twitter, this can become quite the drag. So it makes a lot of sense to not focus on that and instead make sure that you are adapting to the process adequately and go from there.
This is definitely not the simplest way to save Twitter videos to Android, but it's still nice to begin with and quite exciting at the same time, as long as you do this properly. For the most part, the app is going to be easy to use, but it would be easier to download it and not have to share and export every file. That's very time-consuming. It still gets the job done, true, but there are better ways to achieve such a goal, so try to keep those in mind.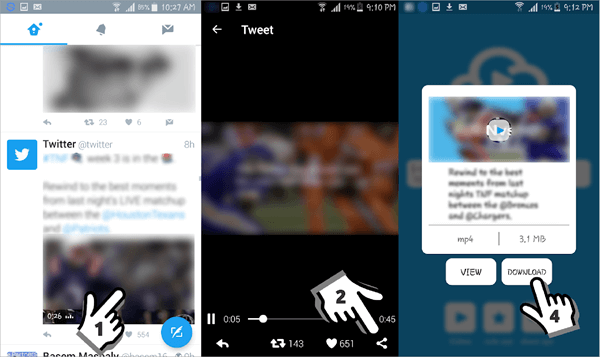 The best way to download Twitter videos is to use Jihosoft 4K Video Downloader. Even downloading a video to a computer and then transferring it to Android sounds a bit cumbersome, but what makes Jihosoft 4K Video Downloader special is that it allows batch downloads and downloads from YouTube, Facebook, Instagram, Vimeo, Dailymotion and other popular video sharing sites. This really helps to change the whole experience. This way, you can get all the videos you need, and then transfer them to your device naturally. All of this is very convenient and professional, and the entire process makes a lot of sense, which is exactly what you have to take into consideration here.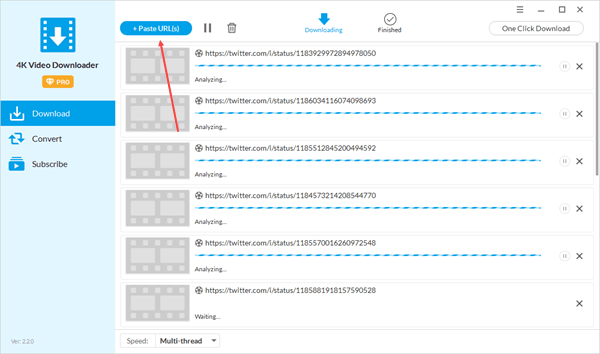 So how does it work? In fact, it's very simple. The steps are similar to downloading Twitter videos to the iPhone. You only need to download and install Jihosoft 4K Video Downloader on your computer, then paste the copied twitter video link address into the program, it will automatically parse them, and then pop up a window. Here you can choose the video resolution, whether to download subtitles, video cover, or convert the video to MP3.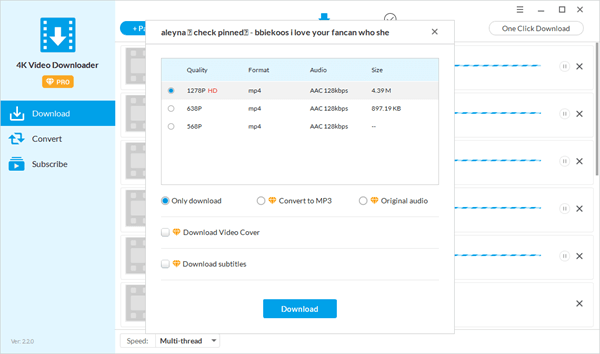 After confirming, click to start the download. Once the video is downloaded, it will be saved to the Finished interface and the default folder. You can play the video directly or transfer it to your Android phone with a USB cable.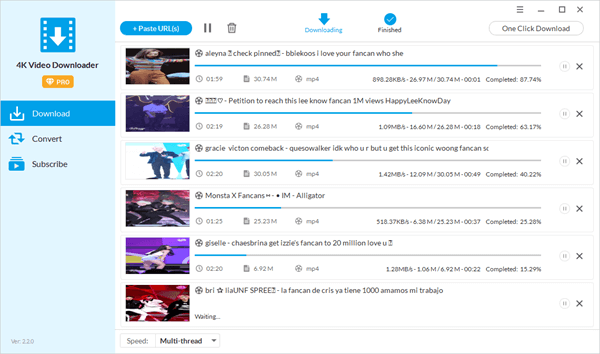 As you can see, as long as you have a tool you can trust, you can easily figure out how to download videos from Twitter. Jihosoft 4K Video Downloader is a perfect Twitter video downloader, and its value, clarity, and attention to detail will impress you. It's certainly worth the effort, especially if you are passionate about getting the best results.
If you're ok with having less choice in regards to how and what you download, Online Twitter Video Downloader might be a good idea. The thing to notice with this tool is that you don't have to download anything. That's the main benefit, and it helps save a lot of time and effort on our side right away.
The most important aspect with this approach is that it brings in front a very fast way to download Twitter videos to Android. They do have an interface that translates well into mobile use, which is a major plus for them. We also like the fact that they are specifically focused on Twitter downloads too.
The way it works is you put the Twitter video URL in, and then you download it. This is simple, convenient, and it will make it easy for you to download a single video. Obviously, if you want to download more than a video, this method will not be that great, as it will just end up being too convoluted to refresh and reuse again and again. You might even miss a link if you're not careful. So this is ok as long as you want to save Twitter videos to Android one at a time. Otherwise, there are better options, like the one listed above.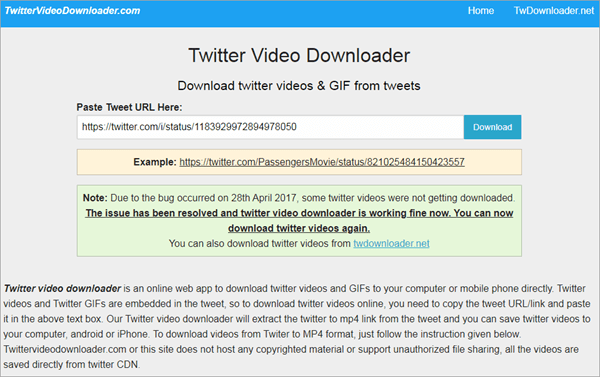 This Twitter account is amazing because you just have to find a tweet that has video or gif, mention them in a reply, and then they will send you a reply with a link to your download. You can go to https://thisvid.space/ to see your downloads.
The entire process here is very interesting for an unconventional way to download Twitter videos to Android. It works true, but you can't do this for a dozen videos. It just works if you have a single video, and you want to work on it that way. Otherwise, you will end up with a not that appealing result where you try to pick the best video option you can and not really receive the outcome that you expect. It's also not that fast to involve a third party into all of this, so that's something to take into consideration.
Overall, this method is recommended only if you tried other download methods, and they don't work for you. Or if you just want someone else to help you download and not worry about anything.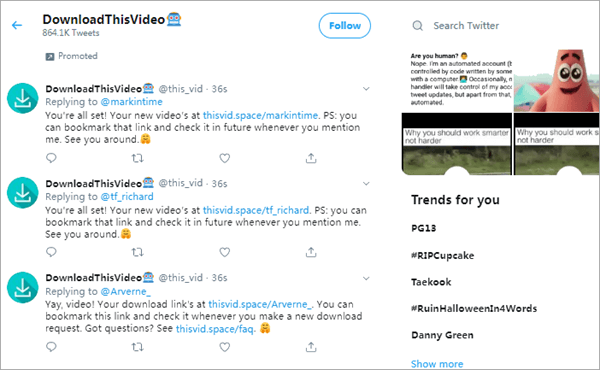 In case the idea to save Twitter videos to Android feels too complicated for you, then you can use the AZ Screen Recorder. This tool helps you capture any video on your screen without a problem. The downside is that it will also record toolbars and any menus that it sees too. So while it might sound like a good option at first, you can't use this as a Twitter video downloader. You just capture the video, which means the capture quality will be lower than the video quality itself.
It makes a lot of sense to find a tool to download Twitter videos on Android as it's a lot better and more professional in such a situation. Otherwise, using AZ Screen Recorder will do the trick if you don't want to complicate yourself with other tools. It's still a good idea to test out a true Twitter video downloader if possible and not rely solely on this. Yet if download tools are not really the best for you, then you can easily avoid that issue and just focus on the best results without any worries. It's one of the options, provided that you want to take it.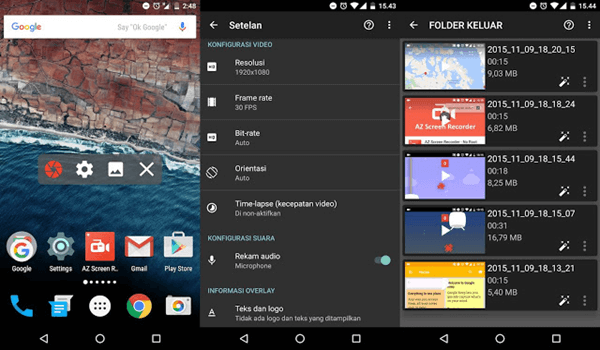 Conclusion
Each one of these tools can offer you a way to download Twitter videos to Android in one way or another. Or you can just use a screen recorder. Downloading on the computer and sending it to the PC is still the best option because it's convenient and very professional. It also helps you customize the quality and audio, among others. Not to mention that you also get conversion features. In the end, it all comes down to the right results and the value you can receive. Choose any of these tools, test them out, and then you will have no problem finding the right one to use as you see fit!